wilson65_wp
Wilson Equipment is now selling a full line of Gatormade trailers, click to view trailer inventory here. All types [...]
Glenn Desmond
Wilson Equipment was proud to participate in the 2019 Truro Santa Claus Parade. Our theme was " A CHARLIE BROWN [...]
Glenn Desmond
Wilson Equipment was happy to lend a hand this year at the NS Provincial Exhibition. With the donation of WA250 [...]
Glenn Desmond
The Wilson Equipment team congratulates Riverside International Speedway on it's 50th anniversary.  
Glenn Desmond
Wilson Equipment was a proud supporter of the 2019 Truro  Touch a Truck. Keep an eye out for our float [...]
Glenn Desmond
Wilson Equipment representing the Gatormade trailers and GEHL compact equipment at this years Country Home Show in Colchester NS. Big [...]
Glenn Desmond
From now until the end of June GEHL is offering low rate financing on both their track and skid loaders. [...]
Glenn Desmond
Please help us in welcoming Keigan MacDonald to the Wilson Equipment team. Keigan started with us back in early spring [...]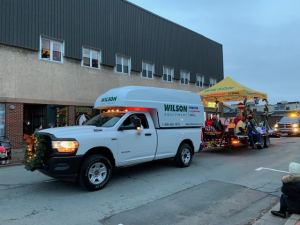 Wilson Equipment was proud to participate in the 2019 Truro Santa Claus Parade.
Our theme was " A CHARLIE BROWN CHRISTMAS". Thanks to all who participated.